Leaning on HSS and Cross-Company Collaboration to Achieve Innovative Designs
Engineer's Perspective: Matthew Aquino, PE, SE, Director of Building Engineering at Wight & Company.
We spoke with Matthew Aquino, PE, SE, about the Design Led-Design Build solutions at Wight & Company, how the firm leans on HSS for innovative designs, and how their collaborative approach shapes their work.
Q: Can you introduce yourself for us with your title and share an overview of your career and your current role?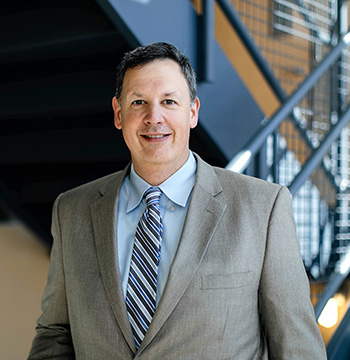 A: My name is Matthew Aquino, and I am the Director of Building Engineering at Wight & Company, which is located in Darien, Illinois, just outside of Chicago. My career has primarily been focused in the field of structural engineering. I hold a bachelor's degree in civil engineering from the University of Illinois at Urbana Champaign and a master's degree in structural engineering from Northwestern University.
Upon graduation, I was very fortunate to land a job at the Chicago office of Skidmore, Owings & Merrill. I had the opportunity to work under some really highly renowned structural engineers such as John Zils, Stan Korista, Bill Baker and Mark Sarkisian, and I worked with a number of highly regarded architects. My next job was with a smaller structural consulting firm called Campbell & Associates where I worked very closely with another highly regarded structural engineer who was a terrific mentor — Allan J. Baysek. I then had an opportunity to go to Wight & Company and start up the structural engineering group. The firm is very well regarded in architecture, construction and transportation engineering, but adding a structural group and an MEP engineering group allowed us to be a fully integrated firm with all disciplines under one roof.
Q: We'd like to hear about the Lewis University Brother James Gaffney Student Center. Can you give us an overview of how HSS was used on that project that was innovative or unique?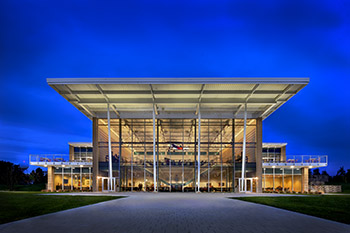 A: This was a truly exciting project that's near and dear to my heart. The entire building utilizes exposed structural steel, but the main focal area is a clear span roof over the student dining area. It utilizes a series of long-span, custom framed trusses. The configuration of the truss elements mimics the strut and tie concept of the biplane that hangs from the roof trusses and is a nod to the university's aeronautical heritage. We were able to design the truss members such that the biplane struts and ties provide a nice, playful aesthetic with the roof structure. We used HSS top chords and verticals with rods for the bottom chords and diagonals. The HSS top chords extend out through the south curtain wall and create a very large overhang. Supplemental HSS round columns also support the overhang, and these columns incorporate Cast Connex forged taper-and-pin connections at the top and bottom that add a really beautiful aesthetic to these columns.
Q: Let's talk about the Downers Grove High School North project. We know the floating roof uses round HSS trusses. Can you describe the design and fabrication process?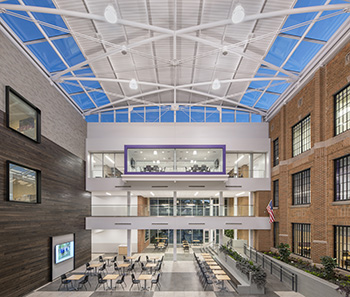 A: Certainly. This was a wonderful project as our structural engineers took the opportunity to take the lead on the design aesthetic of the exposed roof structure. The assignment was to enclose an unused courtyard at the heart of the school and create a focal point. We came up with a number of what we thought were very interesting and exciting custom framing techniques to present to our designers to take advantage of the space and add real value to the project.
We settled on a scheme of eight custom-framed HSS king post trusses using curved round top chord HSS with an HSS round king post and rods for the bottom chords. These trusses form an X shape that ultimately results in a three-dimensional configuration and creates a very light and airy appearance in the courtyard. We also utilized HSS members as purlins continuously running across the top chord of the trusses so that we could create a level base for the skylights and the roof deck to attach to.
Lastly, we incorporated an HSS beam and column frame around the perimeter that elevates the roof trusses above the existing roof level. This HSS frame supports the trusses and creates the elevation necessary to give a floating appearance to the roof structure. And this frame is twofold: It creates a simplified support condition for the roof structure so that we were able to create eight identical roof trusses and simplify fabrication and erection, and it also creates a good transition structure to the existing buildings below, which do not all align with the trusses above.
Q: Let's talk about the Joliet Central High School project, which features beautiful Gothic arches. Can you tell us a little bit of background about why HSS was selected for this project?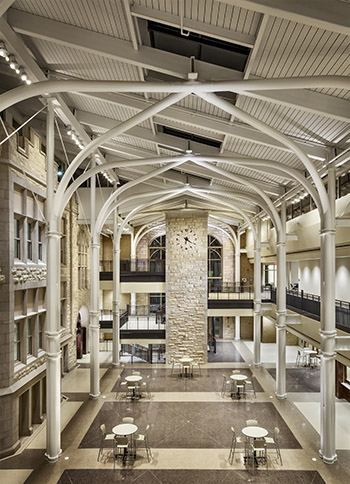 A: This high school was built in 1901, and it's on the National Register of Historic Places. The original exterior facade utilizes a local limestone called Joliet limestone for the load-bearing walls of the school. It was designed in a collegiate Gothic style, so it has Gothic entrance doors, arches and interior design elements.
We created a new atrium adjacent to the school that echoes the collegiate Gothic style, but we interpreted it in a modern way that utilizes HSS structural steel framing. Our design solution included free-standing custom fabricated HSS arches that allowed the roof elevation to rise some 50 feet above the floor level.
The design used a series of bundled HSS tubular columns that extend vertically and branch out in multiple directions to create graceful arches with a central node at the high points. We also restored an exterior limestone wall and incorporated it as an interior design element within the atrium. Using HSS, we were able to create Gothic arches that visually connect to and play off the style of the existing building.
Q: Could you share a project where you faced constructability challenges and tell us how you overcame them as well as any insights you've gained about constructability when you use HSS?
A: Sure. I think any engineer will tell you that we face constructability challenges on every project, that every project's unique, and that's what makes this industry great. At Wight & Company, we strive to identify all possible challenges very early on.
What we really like about the HSS members in particular is that we can curve them, bend them, orient them into all different types of geometries and shapes. It gives us plenty of options when we're coming up with a structural aesthetic. We love the fact that if we want to connect HSS to another HSS, we join them in a very seamless fashion, proving the look of a continuous member. Alternatively, we can stack HSS members on top of each other and use a saddle-type connection, which results in fast and simple construction in the field.
Q: Do you have any tips you'd like to share with other engineers, architects or construction teams in terms of designing or building with HSS?
A: We team up with as many professionals as we can and as early as possible in the process. We strive to bring steel fabricators and erectors into our office to collaborate with our own architects, construction managers and sustainability team. All these team members have an expertise they can bring to the table to optimize the design and the construction of the project to bring exceptional value. So I would say that's our first tip. Secondly, we look to simplify the fabrication and erection processes. We want to create exciting and complex geometries, but we want to simplify them with repetition or modularity and of course be constructable. So once we get one geometry set and have a mock-up and approve it, we know that we can move quickly on the remainder.
We definitely see some really wonderful aesthetic advantages to HSS, but we also feel there's a lot of good structural efficiency to it when it's used properly, and that's why we love to use it.
Q: Could you describe your experience meeting architecturally exposed structural steel (AESS) requirements using HSS members and share any tips you have for that process?
A: AISC has developed some very clear guidelines for AESS that architects and engineers can become familiar with. It's really an á la carte menu where we can identify which areas are the most critical to us and specify an appropriate level of AESS. We don't want to go and make everything high-level AESS as that would be cost prohibitive, but projects can achieve real savings if we're very particular about where and how we specify it.
In the case of the three projects we discussed, we're dealing with roof framing that's elevated 25 to maybe 50 feet above the floor line. We'll specify basic AESS requirements to make the structure look really clean, but we don't need to specify stringent requirements for the roof framing as it's out of close viewing range. We try to locate the connections on the top surface of the framing where no one can see them from below. But for some of the structural elements that do come down near the floor level or within viewing range, we go ahead and specify the more stringent requirements.
Q: We know that Wight & Company pioneered a process called Design Led-Design Build. Can you talk a bit about how that saves time and costs?
A: The Design Led-Design Build process grew out of our firm's deep legacy in architecture, engineering and construction management. About 20 years ago, our CEO, Mark Wight, disrupted the industry's traditional process of designing and then handing a set of documents over to a contractor to build. That just leads to disagreements and bickering and fighting between the designers and the builders. It puts the client in the middle and creates completely unnecessary project problems and costs.
We use a multidisciplinary project design and delivery approach with clear accountability. It consists of a single team working together under one roof to drive quality and value from the very beginning to the end of the project. It's a highly collaborative process, which is the key to discovering the most creative and responsible solutions on a project.
This approach allows us to explore impactful design ideas while raising the level of excellence with delivery. We focus on improving the quality of our final drawings and clearly communicating the design intent to builders, which ends up being more efficient. It significantly reduces overall cost and reduces the schedule, and it provides unrivaled savings to our clients. We essentially guarantee design and delivery excellence unrivaled in the industry.
As an example, the Downers Grove High School project involved designing and building a massive renovation of two high schools. Other firms would not guarantee the price for less than $144 million, but we were able to guarantee it at $122 million and deliver it for even less. By coming in under budget, we were able to provide the district with significant savings they could funnel back to the students and the community.
Q: We'd like to hear about Wight & Company's initiatives toward Net Zero projects, and we're also curious about your process for developing a life cycle assessment on your projects.
A: Wight & Company is a regional leader in Net Zero projects, and the structural engineering group led the firm in the use of life cycle analysis. We have the first and third certified Net Zero buildings in the state of Illinois, and we continue to work to reduce the climate impacts of our designs through zero carbon certifications, grid adaptive design and embodied carbon. On all ground-up construction, we use strategies such as requiring all-electric arc furnace steel production and high levels of recycled content, and we use a lot of specific analyses and design optimizations to reduce the amount of steel.
This approach pushes us to collaborate with a lot of our local fabricators and steel producers and work directly within a supply chain that engineers typically do not engage in. With that collaboration, we're able to learn and identify how to specify and utilize low embodied carbon structural steel products. And it's an area that we're going to continue to focus on heavily as we bring other groups in the company along with us in our life cycle analysis.
Q: How do you see the steel industry evolving in terms of an increased focus on sustainability?
A: Internally, we are focusing on designing structural steel for future disassembly and reuse and salvage because we envision a lot more repurposed materials. So we want to find ways to easily disassemble our designs and then be able to take apart our steel elements for future reuse. Beyond that, we want to see more and more recycled content that is used in steel in all elements. We believe the utility grid will continue to shift toward renewable energy sources, which will help reduce the embodied carbon of steel manufacturing.
Q: We're curious to know what tips you have for young engineers who are looking to do some innovative designs like yours.
A: At Wight & Company, I really encourage all our engineers — structural or otherwise — to find opportunities to take the design lead on a portion of a project and identify it and then bring value to the project and the team. We do collaborate with our designers very early on, and we try to come up with innovative or unique concepts to present. I'll say the designers love it when the engineers can come to them with an idea that's new or refreshing that adds value to a project. So credit is also due to our designers for engaging our engineers early on.
Q: Any final thoughts you'd like to pass along?
A: Innovation and doing unique designs is wonderful, but I think the critical part is great project execution to go along with that innovation. The real challenge lies beyond the inspiration and is in adapting these unique and innovative ideas with real-world challenges of cost, schedule and constructability. What good is a great idea if you can't implement it? That's where our team approach of architects, engineers and builders comes together so that we make sure we can execute an innovative design.
HSS Beam to HSS Column Connections
As the demand for HSS beams continues to grow across diverse industries, this article serves as a resource offering a broad library of detailing options for connecting HSS beams to HSS columns under varying loading conditions.  In addition, an illustrative example is provided, exploring the required limit state checks to consider.
View Article