All About the New Cast Steel Insert From Bull Moose Tube
Peer Perspective: Mark Abernathy, Manager of Field Applications, Bull Moose Tube
Bull Moose Tube, one of the largest HSS producers in the U.S., provides consistent quality for a variety of unique structural applications. We spoke with Mark Abernathy, manager of field applications at Bull Moose Tube, about how the new cast steel insert should be used and why it has an advantage over other similar products.
Q: Can you introduce yourself and your current professional role?
A: I'm Mark Abernathy, manager of field applications at Bull Moose Tube. I provide engineering support to our sales force and customer applications using HSS.
Q: Please describe your background and how your career has evolved to your current role at Bull Moose Tube.
A: I graduated from University of Missouri-Rolla with a civil engineering and engineering management degree in 1980. I've been in the steel business since then selling and designing metal decking, steel bar joists and other tubular metal products.
When I joined Bull Moose Tube in 2006, it wasn't too much of a stretch for me to acclimate to the mechanical tubing sprinkler pipe, HSS production and tubular products. Steel is steel. Bull MooseTube just bent it a little differently than what I was used to.
Q: Can you share your involvement and contributions to code committees, particularly within ASTM?
A: Since 2006, I've been involved with ASTM International. I'm a member of the A1.09 Carbon Steel Tubular Products committee. I'm also on the technical committees for ASTM A500, A1085, A135 and A795. I've authored ASTM A1112, the engineering standard for HSS, using grade-70 to grade-110 steel. I like to think of myself as a custodian, too. I correct errors and answer questions for ASTM A135, A795 and A1112 engineering standards.
Q: Do you have a favorite HSS project you have worked on or are particularly interested in its use of HSS?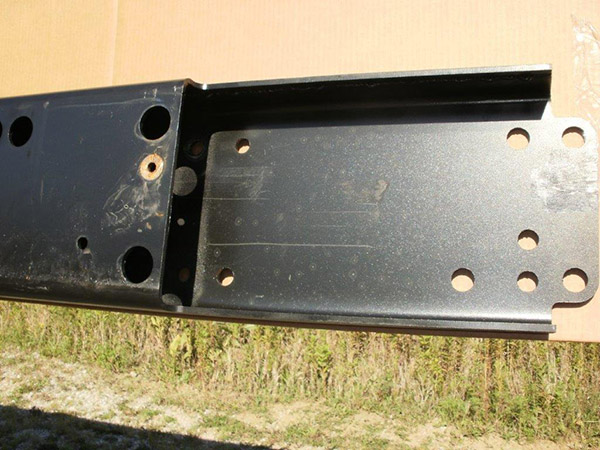 A: Back in 2008, Oshkosh Defense came to Bull Moose Tube with a critical application problem. It was contracted to build ATV MRAP vehicles for the U.S. government for our troops in Afghanistan. Its current production number for trucks per month was three. It needed to increase that to 1,000 trucks per month for 13 months in less than two months.
The frame rails of the vehicle were a wall of HSS that was 4 inches by 9 3/4 inches by 1/4 inch with a yield strength of 110 KSI. Currently, they were used in a press brake to form two C-channels and Oshkosh Defense put them together and hand-weld them together. That was a very slow process.
Then, Oshkosh Defense also had dimensional shape problems from the welding process. Now, that was fine for three trucks a month, but 1,000 trucks a month? It was never going to get there. With the help of our production plant in Elkhart, Indiana, and our large direct form mill for HSS, we set up and produced the frame rails using 110 KSI steel. We provided tubular products that were half of the ASTM A500 dimensional tolerances. Oshkosh Defense was able to meet its delivery requirements, and we were proud of the work we did. No one else in the world could supply that quantity of high-strength HSS in a non-common size with that level of quality. We rose to the opportunity.
Q: The cast steel insert from Bull Moose Tube is an innovative solution to provide bolted splices for HSS columns. How has this product been designed and developed?
A: About five years ago, the senior staff challenged us to come up with a solution to advance the use of HSS in low- to mid-level buildings. Six to 20 stories is what we were looking at. HSS column splicing has been the Achilles' heel for these six-to-20-story buildings. It's a costly, slow process for structural steel fabricators to splice HSS.
The idea was to provide a low-cost splice tool that wouldn't disrupt the current business model for HSS distribution. We also didn't want to disrupt the structural steel fabricator and steel field director. We wanted an off-the-shelf product immediately. We wanted to provide a superior product for the field erection of HSS columns from a 6-inch square to a 22-inch square.
Q: What are some ideal applications for the cast steel insert?
A: HSS column splice for low- to mid-rise buildings with a range of six to 20 stories. Also, truss splices for convention halls and sports arenas using square or round HSS.
Q: What are some advantages of using the cast steel insert over other proprietary bolt or blind bolt options?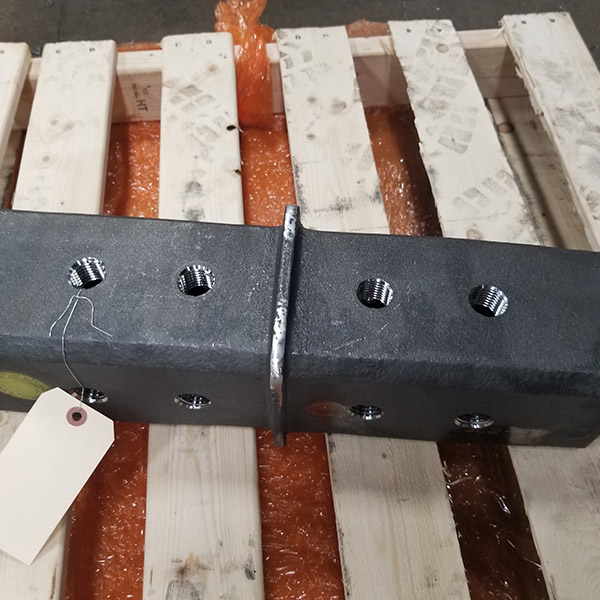 A: The cast steel insert has the same yield strength as the nuts used for bolted connections. It also allows for double shear vs. single shear in the proprietary bolt configuration or blind bolt operations. It's basically just a stronger connection.
We taper one end of the splice, the top portion, which allows the field erector to fly in the HSS column and seat it on top of the bottom column a lot easier. It gives them more field adjustment when they initially slide it into place, thus speeding up field erection.
People think that when you build a high-rise, it's perfect as it goes up. It isn't. About every two floors, elevation and plumb/straightness are checked. If they have to adjust the steel framing, the cast steel insert connection allows them field adjustments to bring the steel frame into acceptable tolerances.
Q: Did Bull Moose Tube have any interesting findings during product testing? What was that process like?
A: We start off with engineering calculations and design per those. We assume that we know where and how things will fail. That's when we go to product testing to prove that our calculations are correct.
We went to the University of Toronto with Dr. Jeff Packer. They provide an excellent setup of what we would expect from loads applied to column splice in compression and tension. The formal testing verified our engineering calculations. There wasn't a surprise — it failed exactly how we designed it. And we were happy with that.
Q: What is involved in the process to allow for cast steel inserts to be made readily available for off-the-shelf procurement?
A: We finished our formal testing at the University of Toronto. Now, we're in our commercial evaluation process where, for example, is the CA insert cost competitive for the structural steel fabricator to purchase and cost competitive for the structural steel field erector?
We're currently having conversations with both the field director and fabricator, providing budget numbers and confirming our rough analysis. Do we have a competitive product? When it's installed in-field, is the net result a lower cost to the owner of the building to erect a structural steel frame?
We have to generate a design manual showing all the possible columns, splices, bolt patterns, bolt sizes and links. We take that design manual and our test report from the University of Toronto and submit that to the ICC for engineering review. They'll then supply us an approval report certificate, affirming that engineers have looked at it and confirmed that this is an acceptable structural connection for HSS.
Q: Are there any other products or projects in the pipeline or recently released at Bull Moose Tube that you're able to tell us about?
A: Yes. We're building a new HSS production facility in Sinton, Texas, in the Corpus Christi area. We'll have the capability to produce HSS up to a 14-inch square by 3/4-inch wall and an 18-inch round by 3/4-inch wall. It should be online in January 2023. This will greatly increase our production capacity and profile size so we can provide for customers all over the United States and worldwide.
Q: Do you have any tips to offer engineers or architects on selecting HSS for projects or designing with HSS?
A: Firstly, go to the Steel Tube Institute website and look at the HSS Capability Tool. There, you'll be able to see the availability of different profile sizes. Certainly check out ASTM A500, A1085 and A1112 engineering standards as they're being updated all the time to reflect the AISC design changes. I believe there are a couple of new design manuals coming out, and there's been a lot of changes. We reflect those changes in engineering standards and make changes as such. What we thought was normal five years ago is probably not available or not common now. Engineers should try to stay up to date, especially with yield strengths.
New Concepts for Bolted HSS Column Splices
Dr. Jeffrey Packer reviews two new and innovative concepts for HSS column splicing.
HSS Capability Tool
Need to locate a producer that can manufacture your HSS sizes? Check out our HSS Capability Tool.