A Wealth of Experience and Real-World Impact With HSS
Peer Perspective: Larry Kloiber, Consultant and Former President, LeJeune Steel
We spoke with Larry Kloiber, consultant and former president of LeJeune Steel, to hear about his experience in the field and beyond.
Q: Larry, you have half a century of impactful experience behind you. Can you share a little bit about your background and tell us what your role is today?
A: I'm pretty much retired, but I still serve as a consultant on steel design and fabrication, primarily for LeJeune Steel. I started my structural engineering career as a plan reviewer for the city of Santa Clara in California before they became the big Silicon Valley area. In 1965, I was hired as a regional engineer for AISC. My first assignment was to attend the International Conference on Plastic Design of Multistory Steel Frames at Lehigh University. There, I met researchers like Dr. Ted Galambos and Dr. John Fisher, who became lifelong friends and valuable resources in my career. When I started with LeJeune, my background with AISC as a regional engineer and the experience I gained as a fabricator helped me manage projects from bid through engineering fabrication and erection stages. I received more and more responsibility and ultimately became president of the company.
Q: You've been part of some big changes. How do you think your practical experience and unique perspective added value to your positions on various code committees?
A: Over the years, I served on AISC committees like the AISC Task Committee on Research where I was involved in overseeing research at more than a dozen universities around the U.S. and Canada. This experience, combined with serving on the AISC Specification Committee where I could learn from the top experts in steel design, was sort of like my graduate school in steel design. I also benefited from working for a small steel fabrication company where I could get involved in practical solutions from bid to fabrication and erection. I was able to walk between the engineering department and the fabrication floor several times a day. I've always enjoyed working with structural designers and trying to help them make their structures easier to build.
Q: You have many impressive HSS projects under your belt. Can you touch on some notable examples of a change or provision that you affected?
A: I've been involved in fabricating a variety of HSS projects. One major project was the University of Iowa's Carver-Hawkeye Arena. This was a skewed chord space truss where the top chord and diagonals were exposed to the weather. All of the exposed members were specified as A588 weathering steel pipe that was available only in stock lengths. An HSS supplier came to us and said they could make round HSS using A588 material and supply design lengths. We proposed this as an alternative and it was accepted, resulting in substantial cost savings to the owner. It was a very successful project.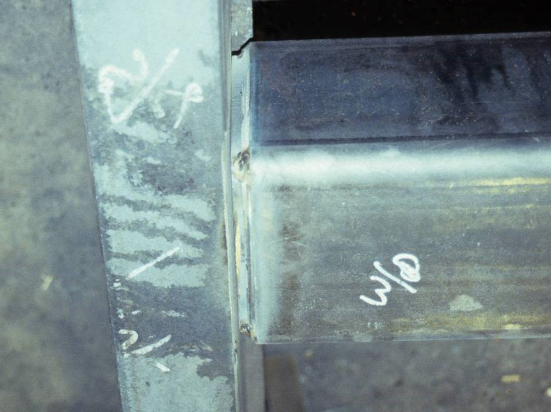 The Minneapolis Convention Center was probably the next really complex project. It had three lamella domes, each supported on four columns about 40 feet in the air. This was surrounded by an HSS space frame that restrained the horizontal thrust of the domes. We fabricated the space frame in a series of boxes that were 10 by 10 by 60 feet. The erector then ground-assembled several of the boxes into a module that would span column to column. He had to tie the boxes together at each panel point with CJP welded HSS members. Where we had CJP splices like this in the shop, we could use full plates as backers. In the field, that wouldn't work because the HSS had to be able to be dropped in between the boxes. We studied the joint and decided that if we mitered the splice and split the backing between the top and bottom, it would be possible to have a fully backed joint. AWS at that time, however, had a requirement that all backing had to be continuous. We went to Dr. John Fisher, and he did a fracture mechanics study of the joint and reported that since the weld was normal to the line of force, the discontinuity wouldn't be critical for a statically loaded structure.
AWS has a provision that I like to call "fit for purpose" where the engineer is allowed to modify the code to meet the requirements of a particular structure. On that basis, the engineer accepted the detail, and we had a very successful project. We followed up with AWS and successfully implemented a change to the code that allows unspliced, discontinuous backing in HSS.
Q: Still thinking about complex past projects, do any come to mind as your favorite or most notable? Why do these stand out to you?
3,000 Walmart Stores
A: We've done a lot of notable projects, but an interesting one is that our company has fabricated approximately 3,000 Walmart stores. This probably amounted to 200,000 HSS columns, so we got very good at developing systems for fabricating HSS columns.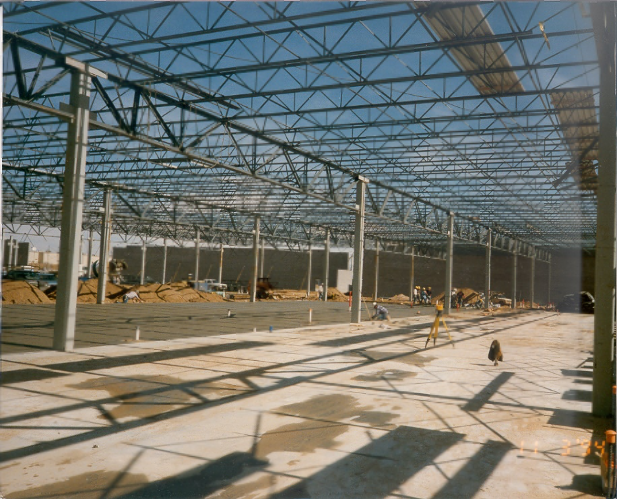 Early on, there was a question about how to design the cap plates on columns that supported the joist girders. The Steel Joist Institute Standard Specification has a bearing length requirement for joist girders, and if this was assumed to be a line load on the cap plate, it would cause bending in the part of the plate extending beyond the face of the column. If this controlled the design, the cap plates could not be standardized. As a result, the plates got so thick that they could not be sheared and punched but required flame cutting and drilling, which increased the cost.
I didn't think the load was transferred this way, so we made a couple of mock-ups of a typical HSS cap plate with joist girder seats and took them over to the University of Minnesota where Dr. Galambos tested them. The test showed the load was transferred from the joist girder seat to cap plate as a load along the wall of the HSS. The wall of the HSS behaved similar to the web of a wide flange beam under a concentrated load. There was little if any load on the cantilever part of the cap plate for almost any joist girder, so you could use a three-quarter-inch plate. When the first AISC HSS specification was written in 1997, the provision for loading on the cap plate used the same equation that we developed as part of our Walmart project and our tests at the university of Minnesota. Now it is the accepted design method for concentrated loads on cap plates on HSS.
Portland HSS Manufacturing Plant
An HSS manufacturing plant in Portland, Oregon, was a new learning experience because it was designed with HSS everywhere we would have normally used structural shapes. There were HSS roof trusses, HSS crane columns, HSS bracing and HSS girts. There were a lot of welds that had flare-bevel-groove details and flare-V-groove details. The project design drawings and shop drawings specified the required effective throat for each detail. Based on the AWS D1.1 prequalified details at that time, it was necessary to fill flush all of the flare-groove details. There were a lot of these details, and we were substantially in production when I went into the shop and found the welders were not filling the grooves flush because they were looking at the required throat and thought they had more than enough throat, not realizing the Z-loss that was required. I thought, "Oh no, we could have a lot of material now that won't qualify." I knew that the AWS D1.1 effective throat values were very conservative and that it was permitted to run tests to qualify larger effective throats. We ran a series of qualification tests showing that we were actually getting the effective throats we needed. As a result, I lobbied AISC to fund a research project with Dr. Packer. He ran a whole series of tests and came up with new effective throats for HSS flare groove welds. Both AISC and AWS adopted these new effective throats, so we've got much more effective welding now of HSS-to-HSS as a result. In my role as part of the committee, it was something we were always aware of but had never taken the step to document it. That was a big change actually.
Q: Can you tell us a little bit about how HSS were used in the U.S. Bank Stadium design?
A: Sure. The interesting thing about that stadium is that because of the sloping roofs and asymmetrical design, there is a huge gutter all the way around it at the top where the snow can slide off into chain-link fencing that is supported by a series of HSS sections protruding from the gutter wall. This outside wall of the gutter is a series of welded frames of HSS sections spanning between cantilevering roof girders. Because of the asymmetry and the slope of the roof, every frame is different around the entire perimeter. Normally, we expect HSS in a building like this to be used for aesthetic purposes, but here it was used for torsional strength and the ability to accommodate the required geometry for the connections.
Q: What are some things you wish all engineers knew about building and designing with HSS?
A: When designing HSS trusses, it is necessary to not only design members for their member loads but they also have to be designed for the connection loads. Chords always have to have wall strength that is adequate for the diagonal's load transfer. A wise engineer by the name of Peter Marshall had a mantra: Do not weld thick to thin.
December 2020